Ivey's Blog
Mother Ivey's Bay Holiday Park hands £600k deal to fellow "fair-pay" firm
Padstow holiday park owner Patrick Langmaid has handed a £600,000 contract to a UK holiday caravan manufacturer – because it believes in paying its staff a living wage.
Mother Ivey's Bay Holiday Park will be taking delivery of 25 luxury holiday homes from the firm, ABI, after becoming the first Living Wage accredited holiday home manufacturer in the UK.

In January 2015, Mother Ivey's became the first holiday park in Britain to be accredited by the Living Wage Foundation, and Patrick has since campaigned for other businesses to join him.
ABI, which employs around 550 staff, is one of the latest firms to win accreditation from the charity – and Patrick said that this was a major factor influencing his purchasing decision:
"We regularly update our holiday homes at Mother Ivey's with the latest models so that guests can enjoy the very best standards of accommodation on offer," he said.
"In Britain we have a world-class holiday caravan and lodge manufacturing industry, and there are a number of other excellent suppliers we could have opted for.
"However, ABI is the only firm accredited with Living Wage status in this sector, and holds the same beliefs as us about the value of paying a real living wage.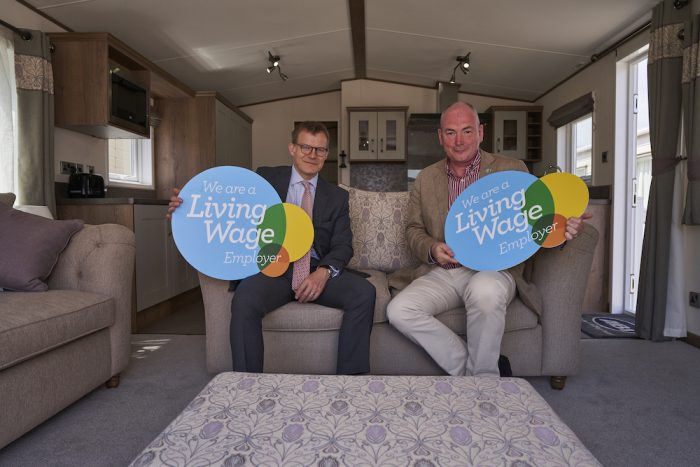 "I want to work with a partner that not only creates the highest quality holiday homes, but also shares my values around ethical employment. ABI's commitment to paying the real Living Wage was a major factor in our decision to partner with them for the replacement of this year's hire fleet," said Patrick who travelled to ABI in Beverley on 15th July to meet with CEO Richard Jones and to choose the new hand-crafted holiday homes for Mother Ivey's.
"Like us, I'm sure ABI will find many long-term benefits in terms of retaining staff, building their enthusiasm and loyalty, and widening the number of satisfied customers as a result," added Patrick whose park employs around 25 full and part-time staff in high season.
The Living Wage Foundation says the real living wage is £9.00 an hour outside London, based on an estimation of how much people need to live, including housing costs, travel and childcare.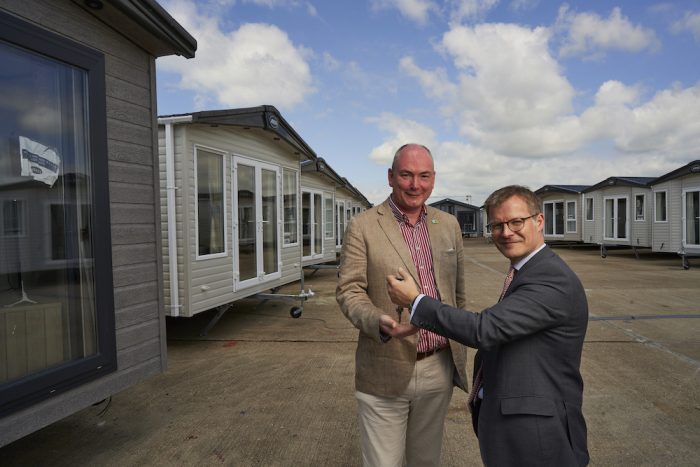 Photograph of Patrick Langmaid (left) & Richard Jones (right)
Over the past few years, Patrick has been championing the real living wage across Cornwall, and especially to businesses engaged in tourism and hospitality. In recognition of his tireless work to promote the principles of ethical employment and the Living Wage Patrick was recently announced as the winner of a Living Wage Champions Award 2019.
"Cornwall is a fantastic holiday destination and a premium brand which attracts many thousands of visitors each year, and there is really no excuse for low pay," he said.
Mother Ivey's provides caravan holiday homes, both privately owned and for hire, plus touring pitches. There is more information about the park at www.motheriveysbay.com
Watch the BBC Look North broadcast about this story by clicking the below link…
Patrick Langmaid runs a holiday park in Cornwall @MotherIveysBay which pays the real #LivingWage. He says he was searching for a Living Wage Caravan Manufacturer for 4 years, and was delighted to buy 25 caravans from @ABIHolidayHomes once accredited. https://t.co/obw3igH5Ik pic.twitter.com/C7LmkgLtB4

— Living Wage Foundation (@LivingWageUK) July 16, 2019