Ivey's Blog
GOLD for Mother Ivey's Bay Holiday Park in another award-winning season
19 April 2023
:
Postcards from the Park

The team at Mother Ivey's Bay were delighted to be awarded the prestigious GOLD award in the Ethical, Responsible and Sustainable Tourism category at the 2022/2023 Cornwall Tourism Awards.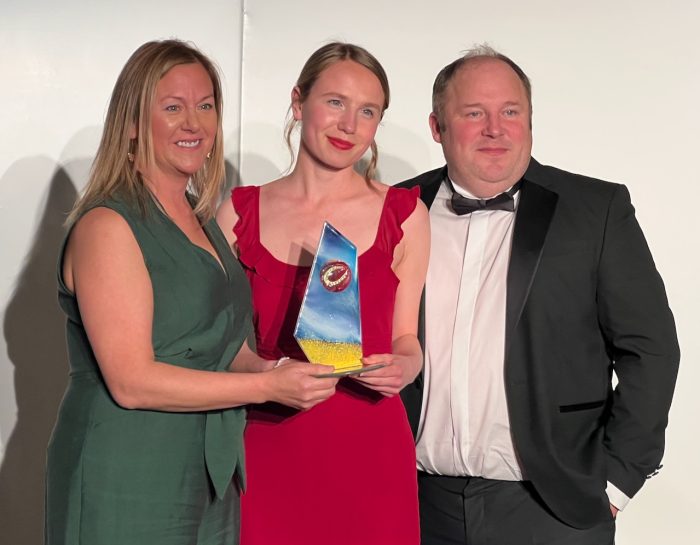 The trophy was presented to Gavin Bowden, General Manager, and Veronika Niewiadomska at the ceremony held at Truro Cathedral in November 2022.
Mother Ivey's commitment to operating ethically and responsibly also saw them go on to win a BRONZE award in the Responsible and Sustainable Tourism category at the regional South West Tourism Awards. This later ceremony, which recognises excellence in businesses from across the whole of the South West, took place last month at the Eden Project.
Owner of the park, Patrick Langmaid, said, "I'm incredibly proud of Gavin and Veronika for receiving the awards on behalf of all of our hardworking staff. Our park's commitment to responsible and sustainable tourism is evident in our operating policies and actions."

"We are committed to providing our guests with an enjoyable and first-class holiday experience, but we also aim to make a positive impact on the local community and environment."
"We are a Real Living Wage employer and we support a number of local charities including the Cornwall Wildlife Trust, Wadebridge Foodbank, Padstow Lifeboat Crew Fund and the Family Holiday Association."
Gavin Bowden added that, "Entering such nationally recognised award schemes is a valuable step for our business because it helps us focus on maintaining excellence, and also serves as a great tool for the business to go above and beyond our customers' expectations".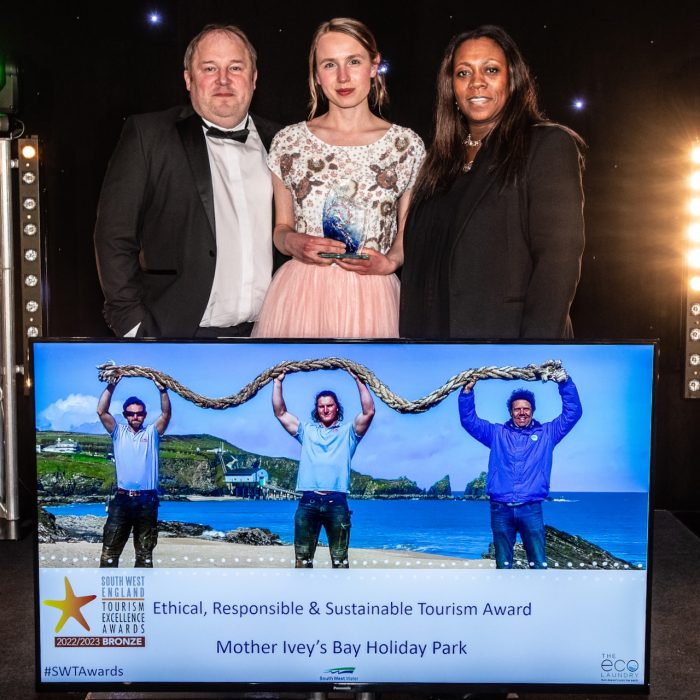 "The awards also provide valuable feedback to every entrant, as they are independently and rigorously judged by industry professionals," says Gavin.
Patrick is keen to emphasise that the park's success is the result of the hard work and dedication of all of the staff and their fantastic teamwork. They are devoted to creating a warm and welcoming environment for our guests, which is reflected in our excellent reviews.
Patrick is widely recognised as an advocate of investing in his team and ensuring that his staff are paid the Real Living Wage. Mother Ivey's was the first Holiday Park in the United Kingdom to gain Living Wage accreditation, and Patrick has been instrumental in encouraging other businesses to follow suit over the years.
Mother Ivey's also recently became the first business in the UK hospitality sector to be accredited as a Living Hours Employer with the Living Wage Foundation.  This Living Hours standard is awarded to employers who have improved job and financial security for their staff.

Mother Ivey's Bay Holiday Park is situated in an Area of Outstanding Natural Beauty and is located above Mother Ivey's Bay, which is known for its crystal-clear waters and golden sand. This idyllic location provides guests with the opportunity to enjoy a wide range of outdoor activities, including swimming, surfing and hiking.
The park's location, commitment to responsible and sustainable tourism, and support for local businesses and charities are just a few of the many reasons why Mother Ivey's Bay Holiday Park is a fantastic destination for anyone looking for a Cornish holiday.
Patrick says, "We would like to express our gratitude to the organisers of the Cornwall Tourism Awards and the South West England Tourism Excellence Awards, as well as to all the generous award sponsors. We are very much looking forward to welcoming this year's guests at our award winning park".