The Meadows
Only open during our busy high season – The Meadows, our tent only area, offers a combination of exciting views and close proximity to our play areas.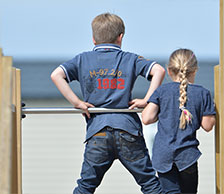 During our busy high season we open the additional Meadows Field which has stunning views across the bay to the Padstow Lifeboat Station. Close to the play areas and football pitch, the lovely Meadows area is the perfect location for your family camping trip.
The Meadows Field is a special area to us and we want to preserve the ambiance of traditional tenting. As a result, this area is only suitable for cars (strictly one car per pitch) and no pickup trucks, vans, commercial vehicles, or camper vans are permitted. Please choose from any of our other four camping areas, Booby's, The Green, Deluxe or The Square if you have any of these vehicles. The Meadows are closed for 2022
A variety of pitches and numbered pitches are available, some with electrical hook-up – Please call our reception team who can check availability and make your booking for you.
The Meadows has a variety of pitches and numbered pitches are available, some with electrical hook-up.
The pitches in the centre of The Meadows are not bookable in advance.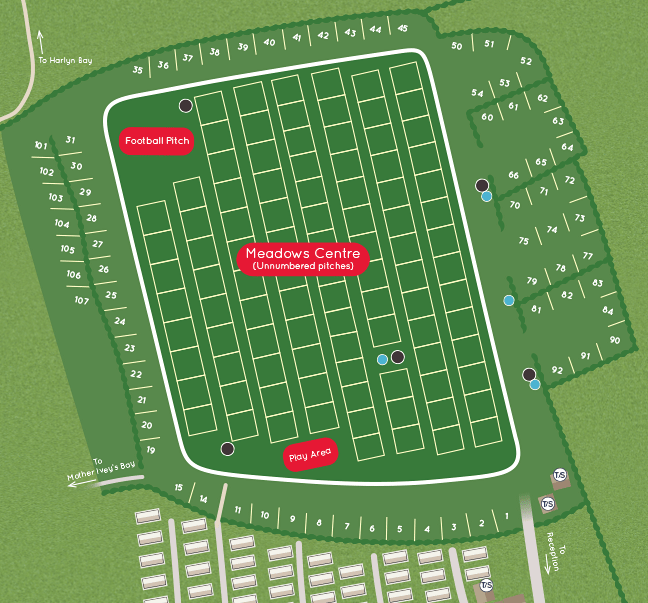 To download a printable plan of The Meadows please click here.
There are a wide range of facilities available to all our customers.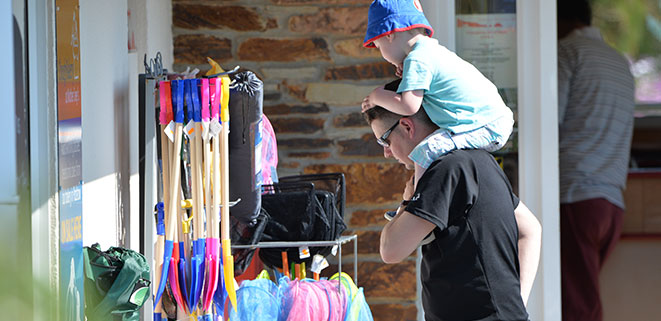 Wi-Fi
There is limited Wi-Fi and mobile phone coverage (depending on your provider) at the Park due to its remote location on the Trevose Headland. We currently have a Wi-Fi hot-spot in one of our chalets. Please ask at reception for details.
Launderette
The launderette is situated behind reception.
Peace and quiet
In response to our customers' requirements, we have no bars, no clubs, no discos and no restaurants to disturb the calm environment of our park. At the request of our customers, we insist on silence from 11 pm to 7 am so that everybody can get a good night's sleep, lulled by the hypnotic sound of the Atlantic waves breaking on the beach below.
Play areas
If you can tear your children away from the beach, our purpose-built adventure playground and large open play area (for ball games, team games and kite-flying) will keep them occupied for hours. Both these areas are situated in The Meadows.
Shop
The shop is located next to reception. It provides a popular range of groceries – including many locally produced goods, newspapers, camping accessories, toys and other items.
Telephones
The telephone boxes are situated behind reception.
With stunning views towards Booby's Bay and Constantine Bay...