Park Accessibility
Find our park the most suitable location for your stay with a guide to the available access for all.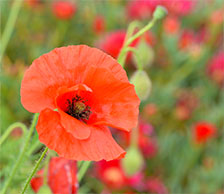 This brief guide below to accessibility access at Mother Ivey's Bay is designed to help customers with additional needs plan their stay.
For our fully comprehensive access statement please click here (PDF File Download).
Our brief guide…
As well as telephone, fax, email and postal correspondence, we are also more than happy to accept calls through the TextDirect and Typetalk services.
Our reception area has a level floor and an extra wide access door to accommodate wheelchair users.  We also have an induction loop.
Extra wide parking bays are available outside of our reception area and shop area.
The entrance to our shop is wheelchair friendly and full assistance can be provided by staff where items are above head height.
Our Laundry has a single width door with ramp access and parking nearby. All our machines are front loading and operated.
'The Palace' Wash block has a wheelchair accessible suite.
The site is on a gentle slope and all of our facilities within the main public areas have flat access and wide doors, except the Launderette, which has a narrow entrance.
Guide dogs, hearing dogs and assistance dogs are accepted in all areas, however if booking in one of our Hire Fleet please inform us at point of booking.
The majority of our hire caravans are not wheelchair accessible having two to four steps to the entry door. We do have hire caravans with a layout that may suit elderly or some disabled customers. Features include wider doors than usual and ramp access.
All our hire caravans have parking adjoining and, if requested when booking, we will endeavour to keep you as near to the facilities as possible.
At Mother Ivey's Bay, we have a hire caravan with a layout that may suit elderly or some disabled customers please click here to find out more.