Ivey's Blog
Celebrating Gold – Another Award-Winning Year for Mother Ivey's Bay Holiday Park and Martha's Orchard
29 April 2022
:
Postcards from the Park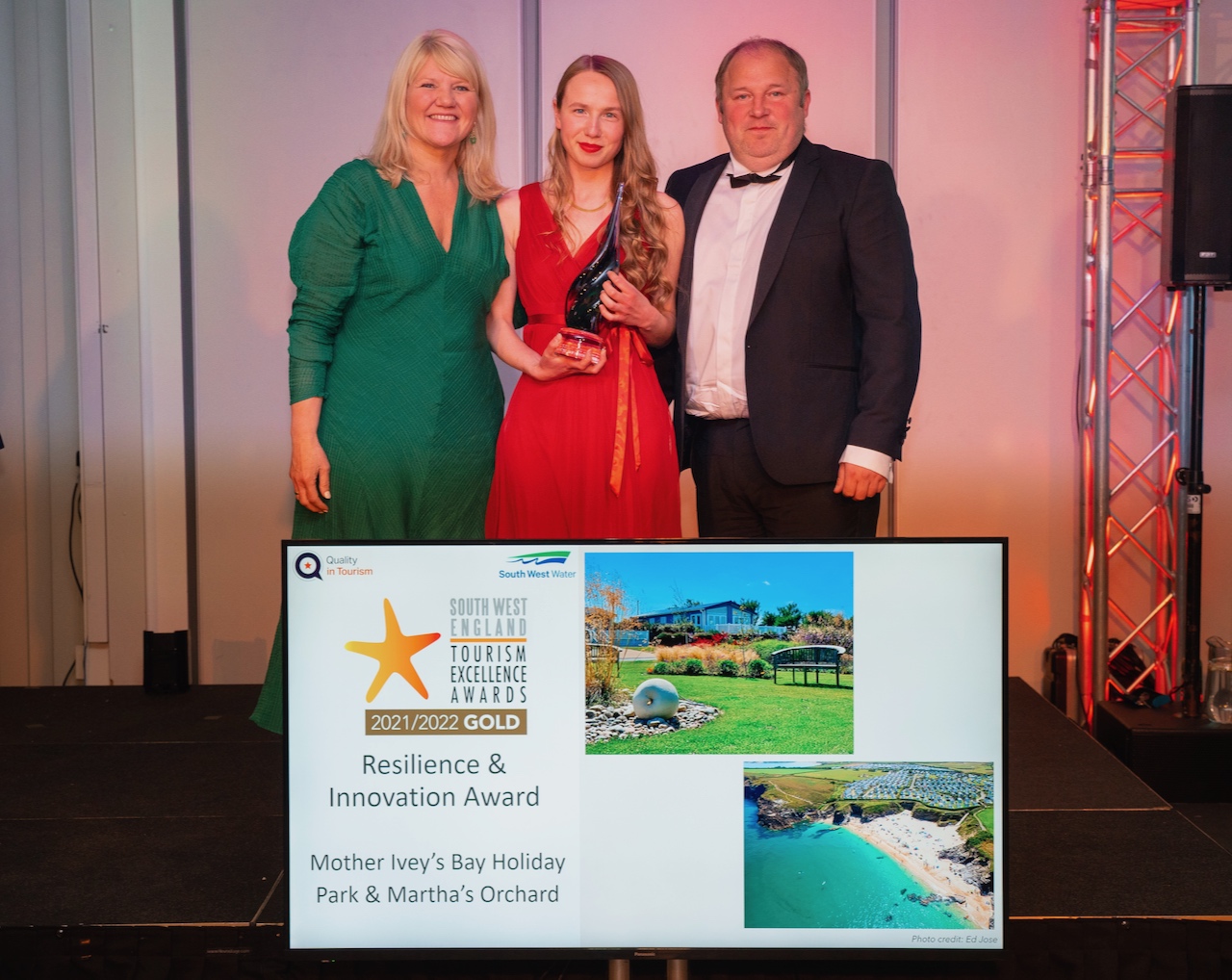 Family-run Mother Ivey's Bay Holiday Park and Martha's Orchard win Gold at the South West England Tourism Excellence Awards and Cornwall Tourism Awards 2021/22.
Patrick Langmaid and all the team at both Mother Ivey's Bay Holiday Park and Martha's Orchard were thrilled to be awarded Gold in the South West Tourism Awards, a ceremony which recognises leading tourism businesses from across South West England, including Wiltshire, Gloucestershire, Bath, Bristol, Somerset, Dorset, Devon, Cornwall and the Isles of Scilly.
Gavin Bowden, General Manager, and Veronika Niewiadomska were delighted to accept the 'Gold' award, presented to both parks as winners of the Resilience and Innovation Award Category, at the Awards Evening held in Exeter on Thursday 7th April.
"It was a fantastic evening and we were so happy to be at the event, to be part of the celebrations recognising excellence in the South West hospitality industry", said Veronika.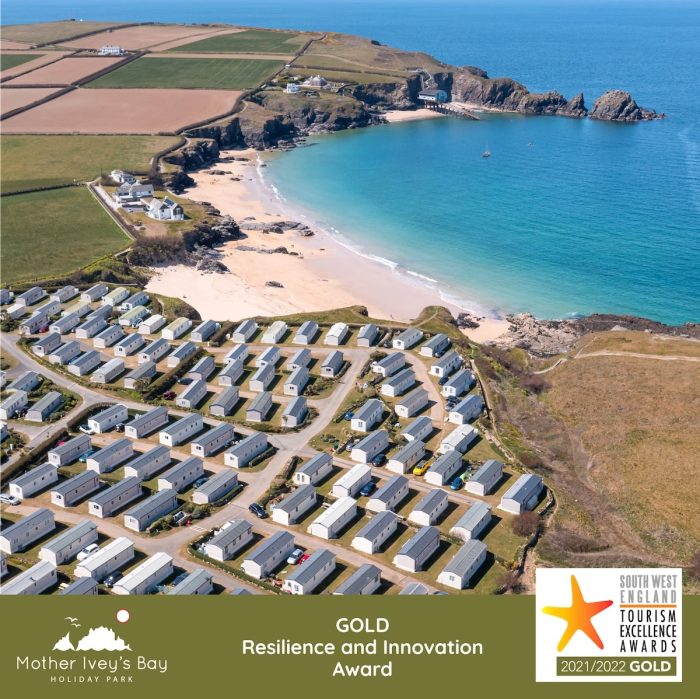 "The icing on the cake was to hear Mother Ivey's Bay Holiday Park and Martha's Orchard being announced as winning Gold in the Resilience and Innovation category, especially when we were competing against so many other successful and innovative businesses from across the whole of the South West".
The celebrations did not stop there as Gavin and Veronika were invited to attend Healy's Cyder Farm on the evening of 28th April, to be handed the Gold trophy, which had been awarded to both Mother Ivey's Bay Holiday Park and Martha's Orchard for their Resilience and Innovation success in the Cornwall Tourism Awards 2021/22 which were held virtually earlier in the year, in February 2022. It was this Cornwall Tourism Gold win that had seen both parks be put forward as an entrant in the Resilience and Innovation category for the South West England Tourism Excellence Awards.
Pictured below are Gavin and Veronika receiving the Gold accolade, a beautiful glass trophy from Jo Downs which will take pride of place in the reception at both parks.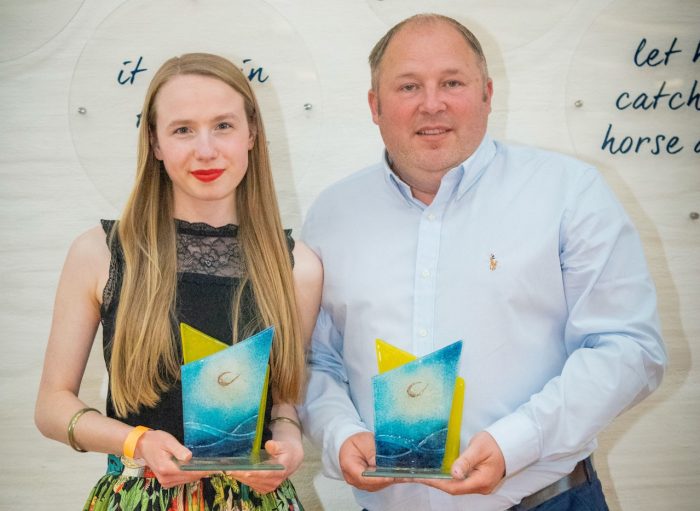 Patrick Langmaid, owner of the park, said, "It's fantastic to see Gavin and Veronika receiving the awards on behalf of all of the staff at both parks".
"We strive to be excellent, caring and socially responsible holiday parks delivering first class stays to all guests, and we have continued to work to this ethos despite the challenges the tourism and hospitality industry has faced over the last couple of years", said Patrick.
It's with thanks to the commitment and hard work of all the team at both sites which has helped our parks still deliver such excellent levels of guest service, whilst adapting to operational changes we have needed to make during the pandemic", added Patrick.
Gavin, who was employed as General Manager of Mother Ivey's Bay Holiday Park during the pandemic, believes that entering such nationally recognised award schemes is a valuable step for businesses, not only because it helps focus on maintaining excellence but it is also a great tool for businesses who wish to go above and beyond for their customers. The award entries are independently and rigorously judged by industry professionals who take the time to provide valuable feedback to every entrant.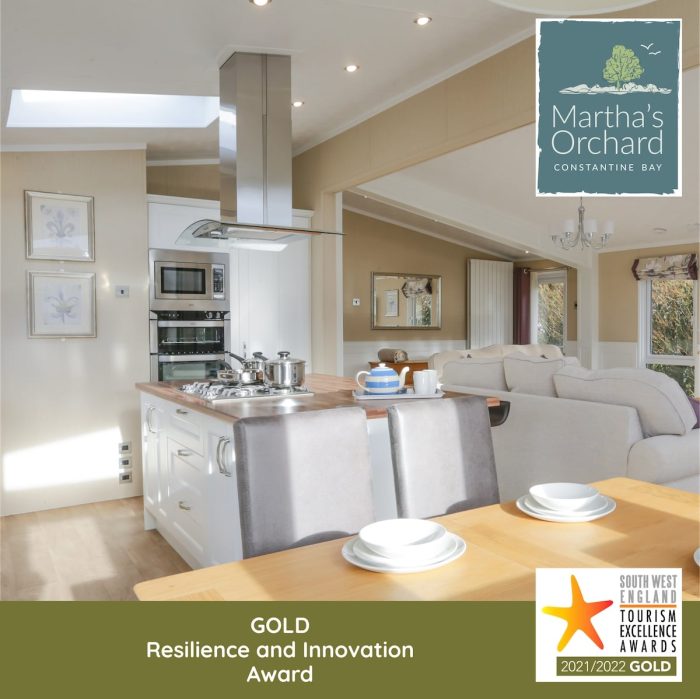 "Being provided with the judge's feedback and actually taking on board their comments is a wonderful tool to help deliver even higher standards of service, particularly taking note of aspects which the judge thinks the business could improve upon is invaluable advice for a business looking to excel and stand out above its competitors", said Gavin.
As far as the judges comments for the Resilience and Innovation part for Mother Ivey's Bay the team think they could not have made nicer reading. The judge wrote the following about the park:-
'A selfless response to the pandemic, putting others first, for example providing a large volume of holidays to NHS staff. Well thought through and caring responses to all the situations that were thrown at them, offering a lead to the rest of the industry.'
Mother Ivey's Bay Holiday Park also won another Cornwall Tourism Award in February, Bronze for being a 'Wildlife Friendly Tourism Business'. Mother Ivey's was noted as 'a really good example of how a Cornish tourism business can be wildlife friendly and accommodate guests in the heart of a precious habitat.'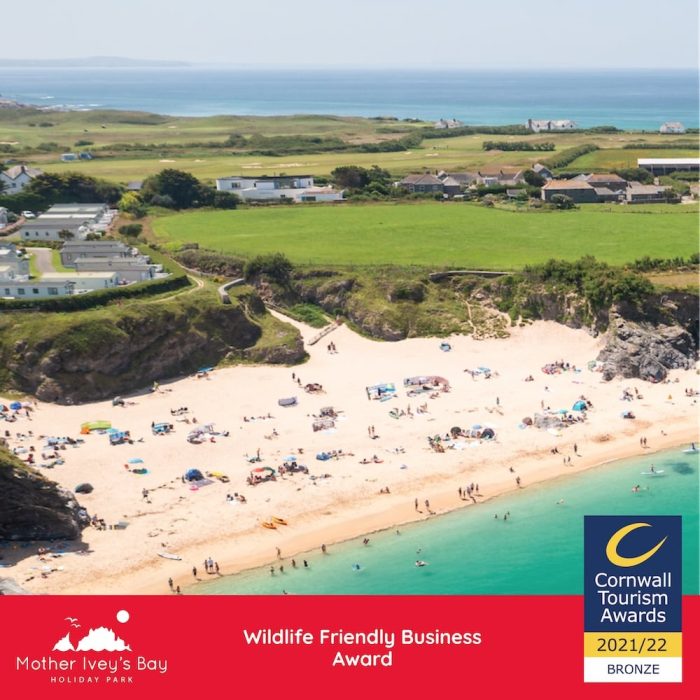 As well as caring for the community and environment, both Mother Ivey's and Martha's Orchard have also undertaken major park developments during the pandemic including new electric car charging points at both locations, and water saving urinals and fast broadband have been installed across the whole park at Mother Ivey's. The shop at Mother Ivey's has also recently undergone a major refurbishment.
Patrick also continues to be an advocate of investing in his team and paying his staff the Real Living Wage. Mother Ivey's was the first ever accredited Real Living Wage campsite in the whole of the UK and over the years Patrick has encouraged many other businesses to accredit.
Celebrating such fantastic award success and looking forward to the year ahead, Patrick would like to extend a special thanks to the organisers of the Cornwall Tourism Awards and the South West England Tourism Excellence Awards, and also to all of the very generous award sponsors.
The team at both award-winning parks can't wait to welcome all of their guests this year.