History of The Park
The Tummon family have owned and farmed at Trevose Head for most of the last century.
From the 1930s onwards they began welcoming guests to Mother Ivey's Bay for holidays, initially in tents and touring caravans.
1930s
Archive film footage of Mother Ivey's Bay and surrounding area dating from the 1930s.
The development of the Mother Ivey's Bay Brand

Orginal logo 1967


Updated 2006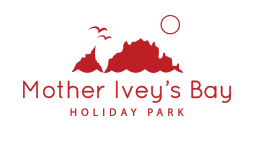 New 2013
1960s
From the 1960s onwards guests began asking to site permanent static holiday caravans in the fields overlooking Mother Ivey's Bay, in addition to the tents and touring caravans, and Mother Ivey's as we know it today was born. Several of our current guests can still remember those early days and have been holidaying here ever since.
1980s
In the late 1980s Mother Ivey's was still very much a farmer's field with no services to any of the static caravans and with sheep grazing amongst the caravans over the winter when the park was closed. Then in March 1988 Peter and Maggie Langmaid purchased what was by then called Mother Ivey's Bay Caravan Park from the Tummon family, who continued farming Trevose Head and who still live on the Headland today.
Maggie Langmaid had the vision to completely redesign and landscape the park, installing LPG, electricity, water and sewage, all piped underground to each caravan pitch and avoiding unsightly above-ground services and gas bottles. She also constructed 4.5 km of Cornish stone hedging within the park. Many of today's guests will still remember Maggie's gardener Victor Ash, known by everyone simply as Vic, whose job it was to plant up all of that Cornish hedging!
1990s
In October 1996 Peter and Maggie Langmaid retired from day-to-day management, and although they retain an active interest in the business, they have handed over the reins to their son Patrick who is still managing the business today with his wife Margaret.
In 1997 we designated 5 acres of our 15 acre camping field as a 'nature reserve' and we have held the top David Bellamy 'gold' award for conservation continuously since 1999, plus in 2013 we won a 'special award' from David Bellamy – click here to find out more about the award…
2013
In June 2013 we held our Silver Jubilee celebration, marking 25 years of family ownership at Mother Ivey's, by this time called Mother Ivey's Bay Holiday Park. The guest list included a handful of customers that have been holidaying at Mother Ivey's continuously since the early 1960s, together with many others that have discovered us more recently.
Thank you to you all.