Ivey's Blog
'Seven Bays for Seven Days'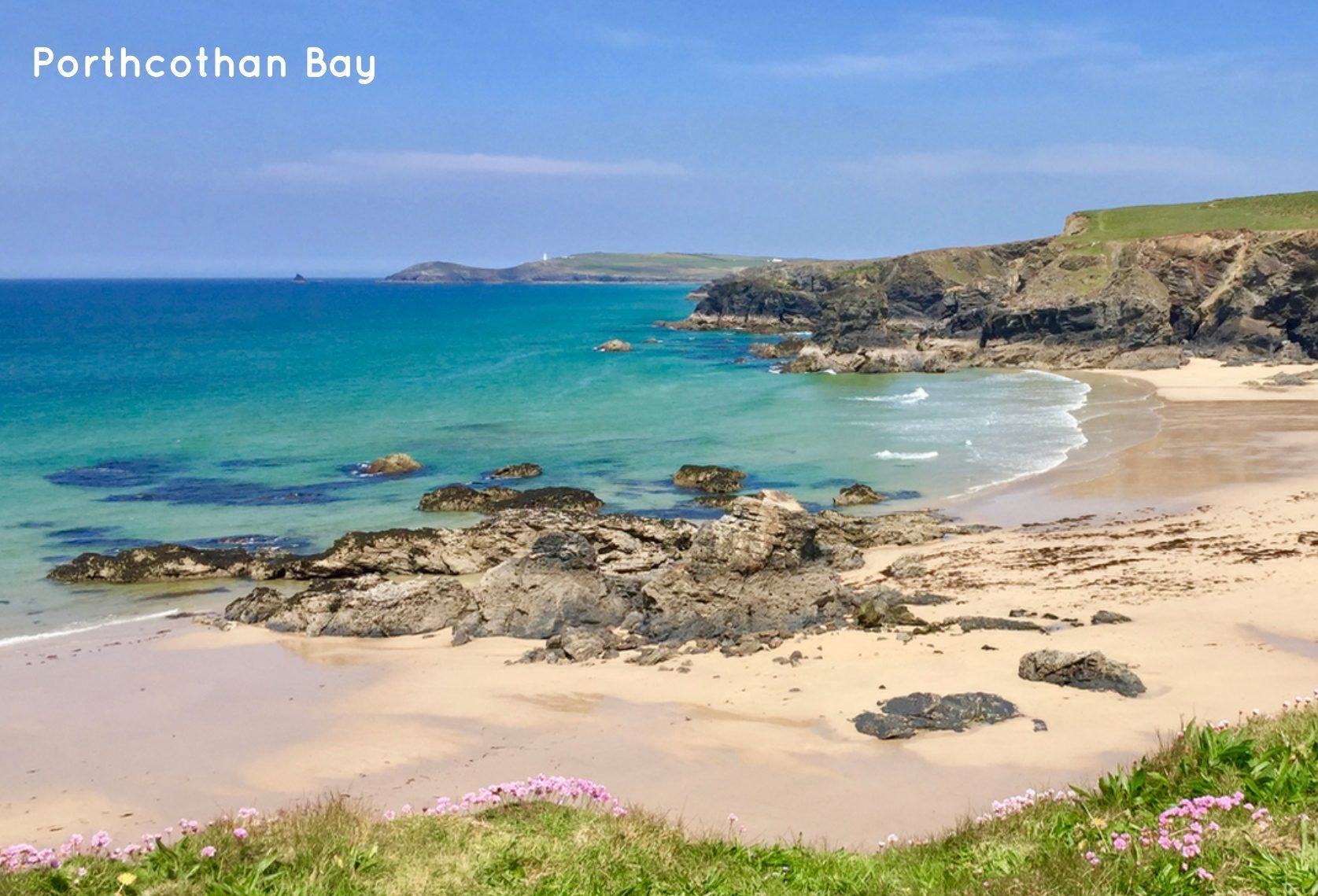 Cornwall is home to some of the most beautiful bays and coves, not only in the UK but in the whole of Europe.
Amongst these bays there is something for everyone; whether you're looking for golden sands and turquoise waters, rock pools and caves to explore, or hidden secluded coves only accessible by foot – there is so much variety found along our 400 miles of Cornish coastline.
The 'Seven Bays' is a beautiful collection of sandy beaches centred around the lovely village of St Merryn, located just three miles from Padstow. Our beautiful beach at Mother Ivey's Bay is one of the seven bays. Discover below what each one of these spectacular locations has to offer.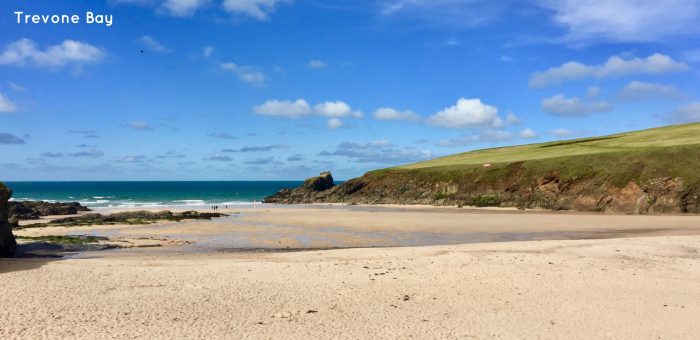 Trevone Bay
Trevone Bay is located just 2 miles from the popular town of Padstow in North Cornwall. The bay is home to two beaches, both protected by dramatic cliffs. Trevone is a large golden sandy beach with plenty of sheltered coves, perfect for children to explore. This family friendly beach is patrolled by lifeguards during the summer months due to its popularity with surfers. The second beach, also known as Newtrain beach is a rock pooling and crabbing paradise due to it being mostly low level rocks. During low tide, a natural swimming pool appears.
Upon the cliffs, to the east of Trevone Bay, there is a large collapsed sea cave known as the 'Round Hole'. This spectacular blowhole is a fault in the cliff that has been widened after exposure to strong waves. Be amazed but please do take care!
Trevone Bay has two car parks with easy access to the beach. There is a seasonal dog ban from Spring to Autumn.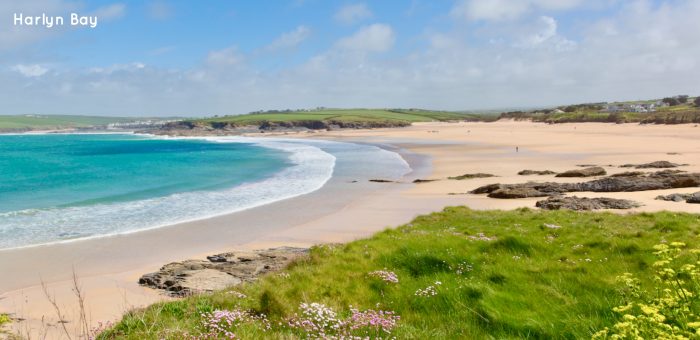 Harlyn Bay
Harlyn bay is the next bay along this breathtaking coastline and is very popular with families and water sport enthusiasts. A wide and spacious beach of yellow sand and pebbles, Harlyn Bay is backed by sand dunes.
There are a number of coves close by to Harlyn called Big Guns Cove and Onjohn Cove which are known to be good for snorkelling.

 

Learn how to surf the waves with a surf school, explore the cove from the sea on a kayak or take the delightful coastal path to Mother Ivey's Bay, another beach of outstanding beauty.
The beach is patrolled by lifeguards from May to September and is dog friendly all year round.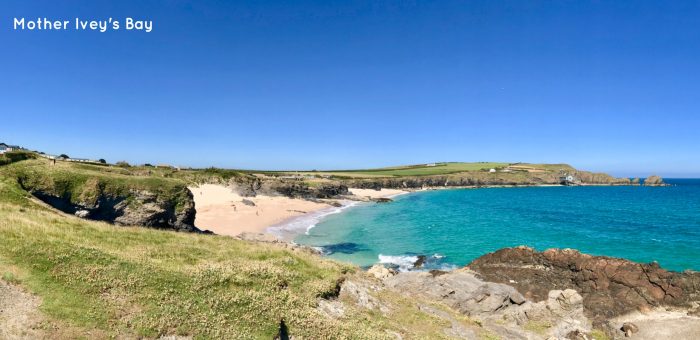 Mother Ivey's Bay
Mother Ivey's Bay can be found just around the corner from Harlyn Bay, sheltered by the dramatic headland Trevose Head. Surrounded by stunning coastal scenery and the Merope Rocks, the soft sandy beach with turquoise waters makes Mother Ivey's a favourite for photographers and walkers.
In 2006 the new RNLI Lifeboat station with its 240 foot slipway was built at Trevose Head to house the Tamar class lifeboat, 'Spirit of Padstow'. This iconic landmark can be admired from the sands of Mother Ivey's Bay and there are weekly lifeboat test launches on Wednesday evenings during the summer months.
According to a local legend, a wealthy family caused the anger of local white witch and healer 'Mother Ivey' over their refusal to help starving local villagers. The white witch cast a curse on the area which is why the beach adopted the name. There is a lovely children's book about this tale  called The Legend of Mother Ivey which can be purchased online or in the shop at Mother Ivey's Bay Holiday Park
Guests staying at Mother Ivey's Bay Holiday Park are treated to private access to this idyllic beach. It is also possible to access the beach via the South West Coast Path.
Dogs are welcome all year round but must be kept on a lead between 10am-6pm.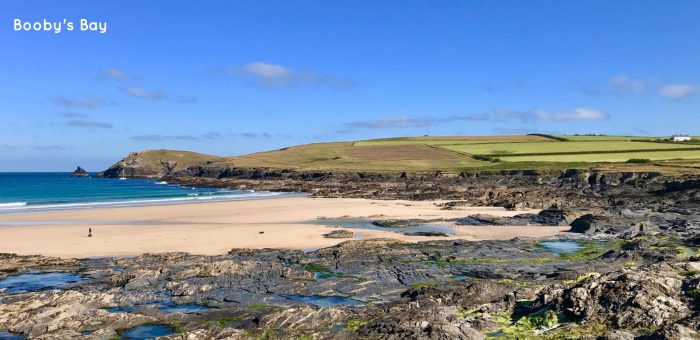 Booby's Bay
Booby's Bay is a small cove just south of Trevose Head. The bay has a rocky backdrop creating lots of pools to explore. As there are many rocks in the area, swimming is not always advised and although lifeguards are present during the summer months Constantine Bay, a sandy beach south of Booby's, is perhaps a safer choice. The bay takes its name from the 'Booby' seabird which looks very similar to the gannet bird and can often be found flying around the area.
Please be vigilant of tide times as
Booby's Bay disappears during high tide. At low tide, the beach links to Constantine Bay and you can often see the remains of a shipwreck in the sand.
The beach is dog friendly all year round. Visitors to this beautiful bay can park at Constantine or Treyarnon Bay and walk the coast path to reach the beach.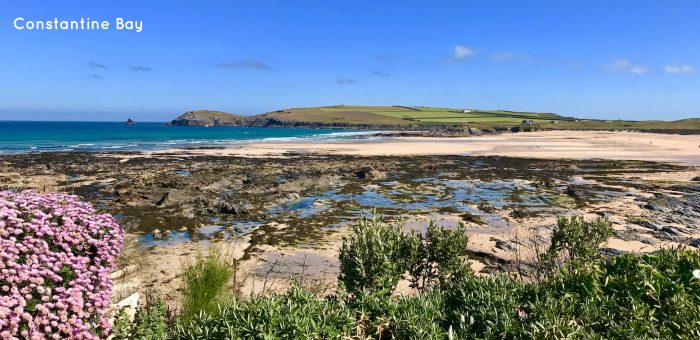 Constantine Bay
Just three miles from Padstow, Constantine Bay is an extremely popular surfing spot, producing top quality waves and with full lifeguard cover from May until September. This wide sandy beach is backed by sand dunes and is known as a great spot to watch marine life.
There is something for everyone here as even at high tide there is enough sand to play on, it is perfect for a revitalising beach walk and the rock pools provide hours of fun for the explorers in your family. Dogs are also allowed on the beach all year round so they can join in the fun every day too!
There is a small car park at Constantine Bay but another field car park is open in the summer.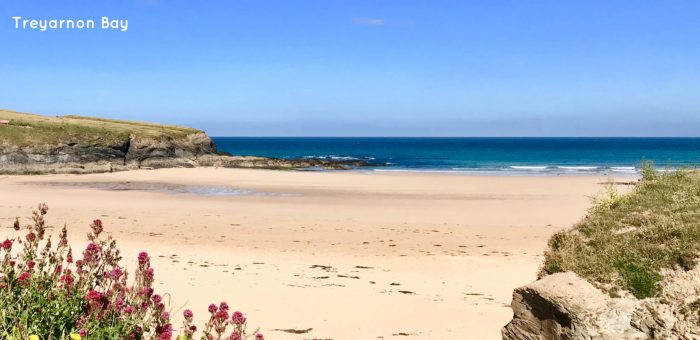 Treyarnon Bay 
Treyarnon Bay is a sandy beach, backed by dunes and has many rock pools and nooks to explore. At low tide, there is a large natural salt water pool which is very popular with children. The headland at the end of the beach features an island which is separated by a gulley that opens into a large cave leading to another cove on the other side.
The bay is dog friendly all year round and includes facilities such as car parking, toilets and a beach shop.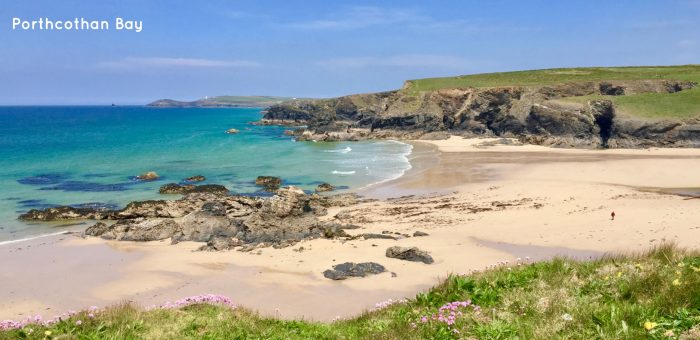 Porthcothan Bay
Porthcothan Bay opens out at low tide and connects with small coves to the north and south. At low tide, the beach becomes very sheltered from wind and swell due to the protection of the cliffs. The water quality is checked often and has been awarded a high water quality status, making it great for swimmers and families. Surfers normally venture to other bays in the area that offer better surfing conditions.
There is no seasonal dog ban on this beach, dogs are welcome all year and lifeguards patrol from May to September.
Porthcothan was a familiar destination in the BBC drama Poldark and was often used alongside Hendrawna beach as Nampara Land. Walk along the cliff top for breathtaking views of the north coast.
Book your 2019 holiday here at Mother Ivey's Bay Holiday Park and explore our beautiful seven bays!