Ivey's Blog
Gill Pipkin – Inspired by the commitment and vision of this family business.
23 July 2018
:
Postcards from the Park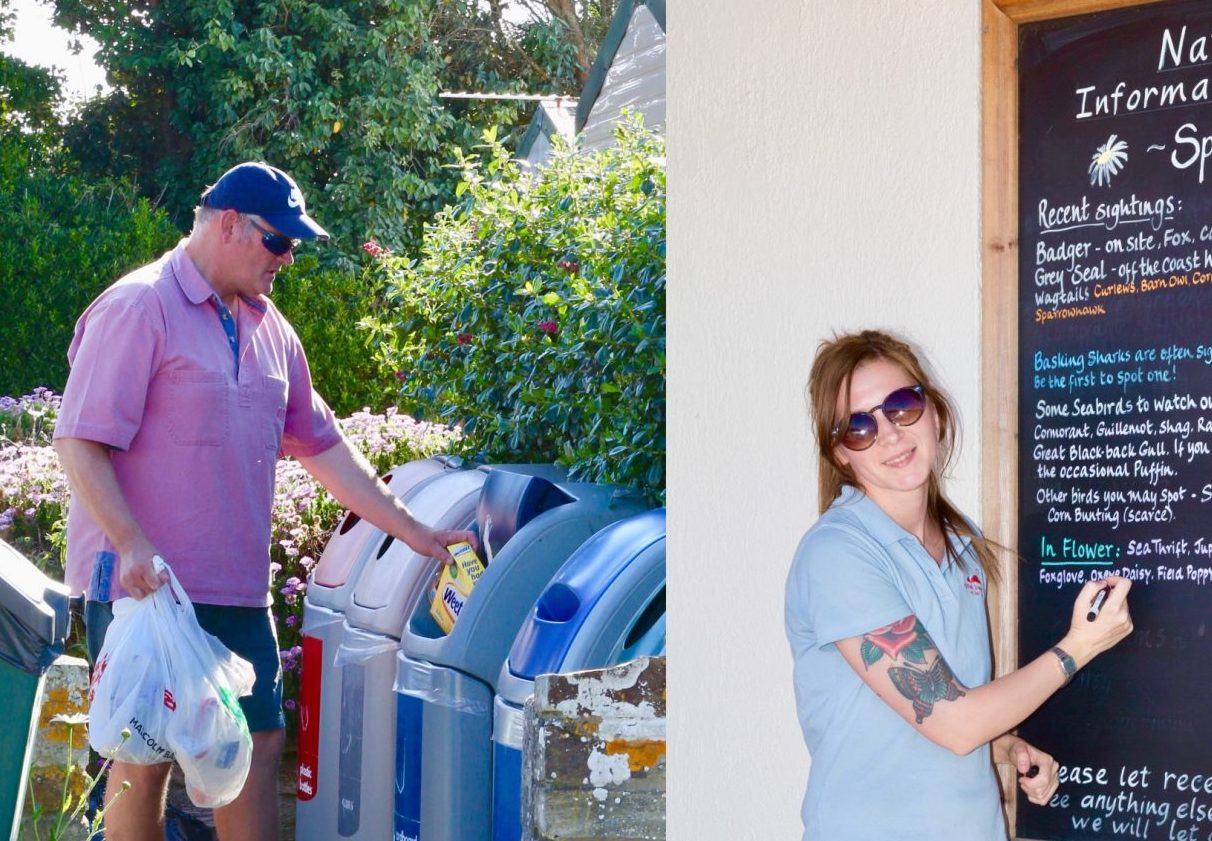 On a beautiful spring day, I was fortunate enough to take a trip to Mother Ivey's Bay on the North Cornwall coast not far from Padstow.  Having met Owner and CEO Patrick Langmaid earlier in the year, I was keen to see a business that embeds sustainability into every aspect of their operations.
Located in stunning landscape, largely untouched by development, with long sandy beaches on every side, I could easily see the attraction for visitors year on year, and with the spring sunshine encouraging flowers to bloom, I think I picked the ideal day to visit.
The Reception area is filled with tourism awards won, many of them beautiful Jo Downs glassware which would grace any mantlepiece.  The park has been part of the David Bellamy Conservation Award Scheme since 1998 and has held a Gold Award continuously since 1999 – I wonder if this is a record?  It clearly demonstrates the family commitment to the environment.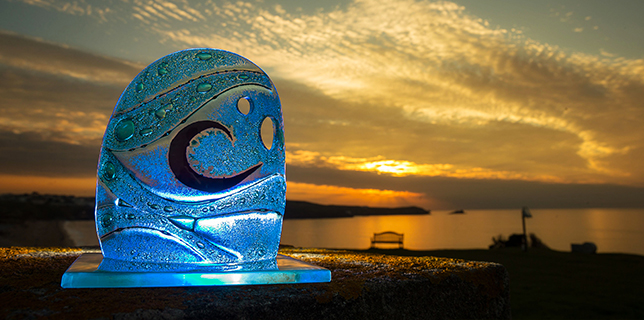 Memories of the Early Days
Mother Ivey's Bay has been in the Langmaid family since 1988, when Patrick's parents brought it. 8 years later, in 1996 Patrick took over the day to day running and have seen the park go from strength to strength.  90% of their business is repeat custom with many new visitors being recommended by existing ones – the high levels of customer satisfaction speak for themself.
Patrick tells me that in the early days, his mother was determined to spend a proportion of the marketing budget on plants, and this has clearly paid off as the park has a fantastic array of native species attracting wildlife.  A board outside reception informs visitors what wildlife has been spotted and asking them to report any sightings – this is such a great way to interest and educate holidaymakers.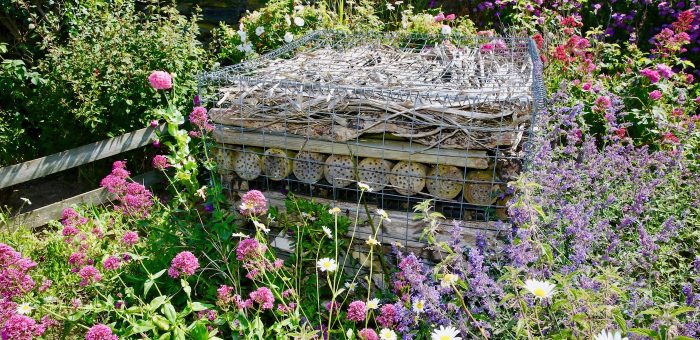 The importance of the environment
Mother Ivey's Bay is located within an Area of Outstanding Natural Beauty (AONB) and a Site of Special Scientific Interest (SSSI), meaning that stewardship of the environment has to be a priority.  The Langmaid's have been keen not to place too much pressure on the land.  The caravans and pitches are all carefully placed to create small communities giving a homely feel.
In line with international pressures to reduce plastic, Patrick is working with the onsite shop to find alternatives.  Soft drinks are only available in cans and milk is offered in bottles – if visitors want to buy plastic, they have to travel to the local supermarket in Padstow.
Recycling points have been a feature of the park for many years.  On the whole, visitors do recycle properly, but some don't.  It's a question of educating visitors and making it easy for them to recycle.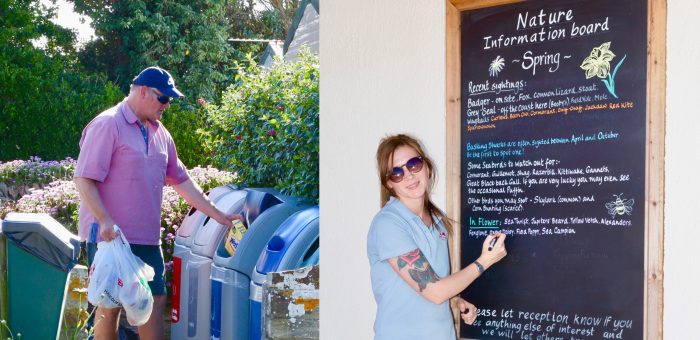 The support for the community
Patrick is a keen believer in Corporate Social Responsibility and works closely with his community to ensure they benefit from his success.  When the popular Vintage Steam Rally was struggling to find a home, Patrick offered one of his fields as the venue.  He has also been a force behind a local raffle which runs throughout the year with the objective of raising funds for all the community organisations – instead of each one running their own.
Regular beach cleans are organised in conjunction with the Marine Conservation Society, and visitors are also invited to make a voluntary donation to local good causes which have included Cornwall Wildlife Trust and the local foodbank.  In addition, for every 100 holidays sold, Mother Ivey's Bay provides one holiday free to a family in need – these can be local families or from other parts of the country but are none the less very welcome.
The value of good staff
One area that Mother Ivey's Bay is bucking the trend in is paying their staff the Real Living Wage.  Tourism is often seen as low paid work, but here staff have benefited from salaries above the minimum wage, along with meaningful training and good working conditions.  As a result, Patrick is able to recruit and retain top quality staff with many returning year after year.
A keen advocate of the Real Living Wage, Patrick encourages others within the industry to adopt it.  He acknowledges that it is a major cost to his business but feels that it's a worthwhile expense as his staff are more productive and provide a better-quality service to visitors, thereby encouraging them to spend more money and return!  In fact, he has cut back on his paid advertising budget as a result of his success.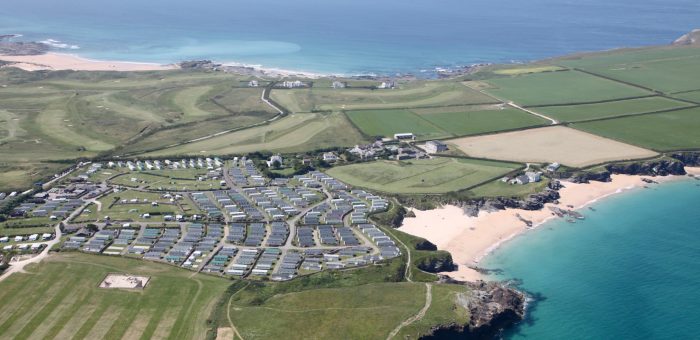 The prospects for the future
Looking to the future, Patrick's main concern is over-tourism, and the threat that too many visitors will place on the honeypot locations.  We have already seen some global tourist attractions close down or restrict visitors as they are becoming damaged by the sheer weight of numbers.  Some locations in Cornwall will have to consider this in order to maintain their attraction.
Patrick would also like to see staggered school holidays.  80 -90% of their business comes in school holidays which puts huge pressure on the infrastructure and availability.  By staggering them, it could benefit tourist destinations and providers whilst prolonging the season.
We talked about Brexit, but as yet, it's unclear the impact this will have.  At the moment, more Dutch and German visitors are attracted to the Cornwall by the value of the pound and the impact of Rosamunde Pilcher and Poldark, but this could change in March 2019.  Barriers to travelling to the continent could also encourage more people to holiday at home, bringing increased UK visitors to Cornwall.  The future here is very uncertain.
My time with Patrick came to an end.  I came away inspired by the commitment and vision that the Langmaid family have shown to this beautiful area of North Cornwall.  By making the environment, their staff and their community so central to their business, they have created a successful and sustainable model that can be adopted by anyone.  The question is, why aren't other businesses following his lead?
With thanks to Gill for writing the above article. To read more about Gill and her business Gill Pipkin Consulting, please click HERE