Ivey's Blog
Our top camping checklist
15 March 2018
:
Postcards from the Park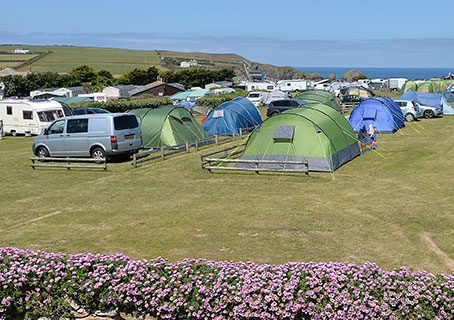 Whilst the items you choose to take camping will very much depend on the type of trip you're undertaking, the location and the group or individuals you'll be travelling with – when it comes to a family, group or couples break at Mother Ivey's Bay Holiday Park, we recommend the following essentials:
A tent! – Ok so this one's pretty obvious but think about choosing a larger tent that sleeps more than the number of those going on the trip. This will give you some extra space for all your bits and bobs.
Mallet – What can be worse than realising you have nothing to tap tent pegs into the ground? Not to mention getting the windbreak sorted!
Lights – Think about packing some lanterns to light your tent, as well as some torches for trips to the toilet or shower.
Airbeds or camping beds – Who says you need to 'rough it' when camping these days? A comfy bed to settle down in after a day of fun and exploring can make all the difference. Don't forget to bring nice warm sleeping bags and pillows!
Windbreak – A great way to create your own, private outdoor space, it's an item that's well worth packing.
Furniture – Whether you've chosen a big tent with space inside for seating and other furniture, or a smaller tent with the plan to dine outdoors, a table and some comfy chairs will make you feel right at home.
Stove and/or BBQ with gas or charcoal – Whether you opt for one or both, cooking up a storm is all part of the camping experience!
Cooking and dining utensils – Don't forget those all-important pots and pans, cooking utensils, tableware and cutlery. You'll also need to think about packing some matches or a lighter – not to mention the tin opener, bottle opener and corkscrew!
Cool box – Whilst we're on the subject of cooking, let's think about keeping that food cold. A large cool box is an essential piece of kit when camping, just make sure you have one large enough for all your supplies.
Water container – Another 'must have' item, this is perfect for keeping your drinking water in, or to transport water from the tap.
Basin – Unfortunately camping doesn't mean escaping the washing up! With that in mind it's often useful to bring along a basin of some kind that you can use to carry your pots and pans.
Bin bags – We're so lucky to enjoy such a beautiful location and love to share it with our guests. In order to keep it in the best possible condition and look after this beautiful area we ask that all rubbish is disposed of and bin bags are definitely one item sure to come in useful!
First aid kit – The final item on our checklist, a first aid kit, is always a good idea when travelling anywhere – especially with kids!
Whilst not an exhaustive list, these items should provide a great base from which to enjoy a fantastic camping break. Please just note that your tent and equipment must fit into the pitch booked (allowing for breaks between tents, as indicated in our booking conditions). We look forward to welcoming you soon!