Ivey's Blog
10 fun facts about Christmas in Cornwall
08 December 2017
:
Cornwall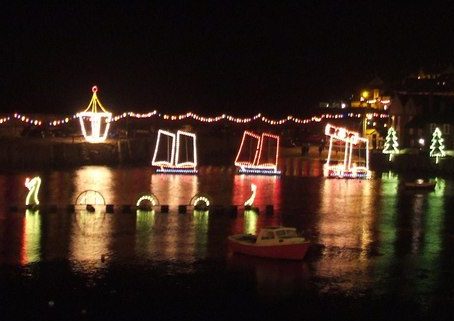 Christmas in Cornwall is welcomed with great enthusiasm, as many communities look to the past for traditional ways to celebrate.
Here is the Mother Ivey's Bay Holiday Park Christmas cracker of Cornish traditions…
There's always a lot of singing involved
Cornwall loves music and has a number of choirs – with the Mousehole Male Voice Choir one of the best known. It started in 1909 with a group of men and boys meeting to practice singing Christmas carols in an old net loft in the fishing village near Penzance.
The choir of more than 80 men perform throughout the year, but their Christmas concerts capture the magic of this special time. Their annual Christmas Concert will be on December 22 at Paul Church at 7.30pm.
The Cornish have a word for it
Nadelik Lowen! That's Cornish for Merry Christmas. It's a time to bring out lots of traditional entertainment and activities. At Pendennis Castle (16-17 December) their Nadelik celebrations include stories, singing, dancing and the chance to make a Christmas "Bunch" – greenery to decorate your home. Holly, ivy and mistletoe are woven in a circle topped with an apple and a light in the middle to be hung indoors on December 20.
There's always food on the table…
Forget mince pies. In Cornwall, they serve up Star Gazy Pie along with the legend of Tom Bawcock. It's the 16th century and West Cornwall people are starving because of a failed harvest. At the height of a dreadful storm, fisherman Tom Bawcock sets out from Mousehole and comes back with a massive catch to feed everyone. They were so hungry that they baked the fish in a pie with the heads sticking out from the pastry crust. In Mousehole they mark the maritime miracle on 23 December as Tom Bawcock's Eve when the pie is still served.
.… and food to drink
The Cornish fishermen can also take credit for an old Christmas traditional drink called Mahogany, on account of the colour. To celebrate a good catch, they would mix two parts gin to one part black treacle – it helps if they're both warm. It's quite sweet and probably best taken in moderation.
In the bleak midwinter
Penzance has revived the tradition of the Montol Festival on 21 December, the midwinter solstice. It's now a six-day arts and community event with lots of craft activities and entertainment. On the big day, there is a parade through the streets with music, lanterns and fire and the burning of the Cornish Yule Log – a stick figure representing Father Time and symbolising the end of the old year.
Tudor times
The Tudors started many traditions that survive today, including the use of candles on trees (now the much more health and safety conscious fairy lights), singing carols and eating turkey. At Trerice, an Elizabethan Manor House near Newquay (now in the care of the National Trust), they celebrate Christmas in a Tudor style. Father Christmas will be there (in green, this was long before the modern Santa in red) to tell stories of what a Tudor Christmas would be like. Visit nationatrust.org.uk for details.
Take the plunge
Christmas Day swims will take place on many of Cornwall's brilliant beaches. It's certainly not for the faint-hearted, as wetsuits are frowned upon – although Santa hats are optional. Still, compensation comes afterwards in the form of a hot drink with something alcoholic to thaw you out.
It's also spectacular to watch, so wrap up warm and head for Polzeath, the Extreme Academy at Watergate Bay, Sennen, Gwithian, Trevaunance Cove or St Agnes, where hundreds of hardy enthusiasts will storm into the sea. Other beaches also have swims… or start your own!
Say it with flowers
The gardeners at the National Trust's Cotehele Estate near Saltash spend all year growing and drying flowers to decorate the Great Hall at Christmas. Since the 1950s, flowers have been used with each year more ambitious than the last. Today it's grown to a 60ft garland with 20-40,000 plants which takes ten days to hang.
Christmas spirits
Everyone loves a ghost story at Christmas and Cornwall has its own. The Pendeen Fogou is a structure dating back about 3,000 years to the Bronze Age. It's an underground cave which may have been used for ceremonies or rituals as part of a larger settlement at the site, a few miles from the sea. A white lady holding a red rose in her mouth is said to appear at the Pendeen Fogou at dawn, on or around the winter solstice, only to disappear inside the structure. It is supposed to be bad luck to see her.
Lights for remembrance
The fishing village at Mousehole has had a wonderful Christmas lights display for over half a century. The impressive fixtures include a sea serpent and continues throughout December until Twelfth Night on January 6. The lights are always dimmed on 19 December between 8pm and 9pm to remember the 16 people who died in mountainous seas during a 1981 storm, including eight volunteers of the local Pendeen lifeboat the Solomon Browne.