Ivey's Blog
Things to do with the kids this October half term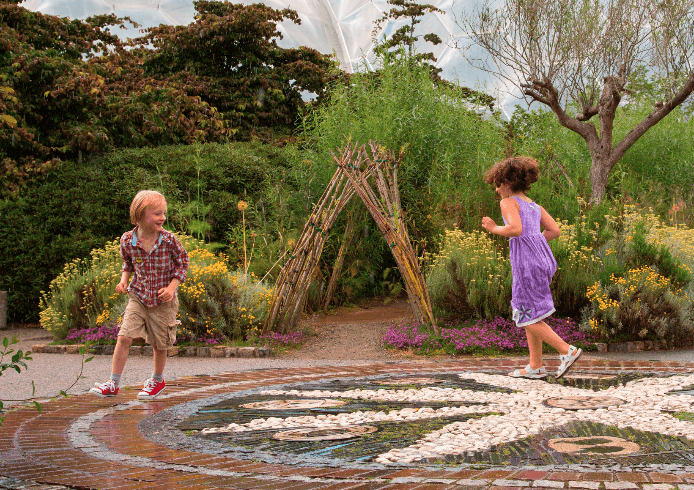 Autumn half term approaches and with it the two words parents dread to hear: "I'm bored!"
At Mother Ivey's Bay Holiday Park you are within walking distance of beautiful beaches – a great source of fun even if sunbathing isn't on the agenda – and family attractions are only a short drive away. So there's no need for boredom to set in.
Here are five things we'd recommend for family fun, including some DIY options!
The Eden Project
This is the biggest tourist attraction in the county, but that means there are always special events planned for half term week on top of the chance to explore the site near St Austell. You can travel the world in one place with the Rainforest and Mediterranean biomes, Western Australia Garden and lots of plants and activities.
During half term you will come face to face with villains from some of Roald Dahl's popular books in Halloweden. A terrifying trail of immersive experiences across Eden based on five of the most iconic stories will keep children happy with a series of challenges.
The Witches inspires a scary – but vitally important – training session for spotting real witches, while Fantastic Mr Fox's Farm challenges visitors to travel through tunnels and sneak out plump chickens whilst evading capture from Boggis, Bunce and Bean.
Mr and Mrs Twit's house is full of terrible tricks and pranks, the BFG's cave is a magical, mystical wonder – just make sure you don't wake the sleeping giants and Matilda's formidable headmistress Miss Trunchbull sets some demanding sports day challenges.
Roald Dahl's Halloweden takes place every day from October 21 to 29 and is included in the price of admission to Eden with no booking required. Booking online saves money (you don't need to print out a ticket) and there are discounts for family admission. An annual pass means you can return for free and don't have to squeeze it all into one day.
Trerice
This Elizabethan manor near Newquay is in the care of the National Trust and a great place to try one (or more) of the activities on their 50 Things To Do Before You're 11¾ list. They suggest you walk barefoot in the grass, or make a grass trumpet. Or perhaps you can look for insects and birds in the beautiful gardens.
The prosperous Arundell family built their house at Trerice in 1572-3, with further restoration work done some two centuries later. When the National Trust purchased it in 1953, most of the North wing had become derelict. Now beautifully restored, Trerice is surrounded by glorious grounds – an orchard and knot garden provide a haven for pollinators with an abundance of wildflowers. Children are encouraged to run around and there's a parade ground and turf maze. There are regular costume days for dressing up indoors, and outdoors there's a chance to play traditional games such as Kayling or Slapcock on the Bowling Green.
www.nationaltrust.org.uk/trerice
Goss Moor National Nature Reserve
Goss Moor is about half an hour by car from Mother Ivey's Bay Holiday Park and there are plenty of free parking spaces close to the A30. Follow the seven-mile circular trail which is mostly flat so perfect for baby buggies and bikes. The Nature Reserve is managed by Natural England and the largest moorland space in mid-Cornwall.
It is teeming with wildlife and plants leading to a designation as a Site of Special Scientific Interest and a Special Area of Conservation. You'll find rare species local to Cornwall including Cornish moneywort, yellow centaury, Cornish pillwort and marsh clubmoss; many species of butterfly, dragonflies and damselflies and over 70 species of bird. The habitat is varied with heath, water, fen and grassland. Animals you might be lucky to spot here are otters and overwintering birds including the bittern.
Look out for signs of the area's industrial past as part of the tin mining industry.
Visit www.cornwall.gov.uk for details of parking and a map of the area.
Scavenger Hunt         
For some free and easy fun, why not have a scavenger hunt? The landscape around Mother Ivey's Bay Holiday Park offers plenty of variety. All you need are paper and pens, plenty of imagination and a prize for the winner (it's often a good idea to have runner-up prizes too!)
Each child needs a list of things they need to collect or spot while you are out on a walk. Opt for things they need to look a little for – don't make it too easy. They collect the items, or simply tick them off on the list after finding them. You could ask them to find two different types of leaves, a big twig, feathers, pebbles, something rough or something smooth. Or landmarks like churches, pubs, schools, chimneys or red cars, tractors, motorbikes, horses. The sky's the limit really.
Rockpool Exploration
With a brilliant sandy beach with coves and outcrops of rock on the doorstep, free fun is to be had exploring the waterfront. Rockpools offer the chance to spot limpets, sea anemones, crabs and maybe even starfish.
You may even find something interesting on the shoreline, washed up by the tide. Just remember the Seashore Code: Buckets for scooping and collecting are better than nets, which can damage seaweed. Handle anything you find with care and don't put more than one creature in a bucket, and don't keep it for too long because they can get stressed.
Put things back where you find them, and be careful where you step. Rocks can be slippery and you could also damage sea creatures or their habitat.
Only take home empty shells and help Mother Nature by taking home your rubbish and any other rubbish you find.
The Marine Conservation Society has lots of helpful advice and info online at www.mcsuk.org.