Ivey's Blog
5 places to visit within walking distance of Mother Ivey's Bay Holiday Park
23 August 2017
:
Postcards from the Park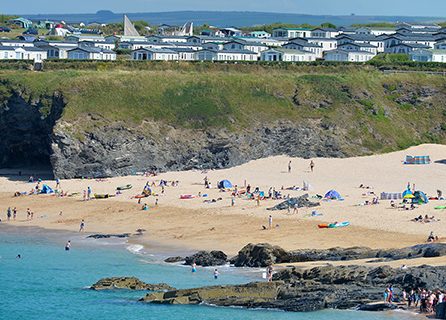 Mother Ivey's Bay Holiday Park is on one of the most beautiful stretches of the South West Coast Path – England's longest National Trail which runs for 630 miles from Minehead in Somerset around the coast of Devon and Cornwall ending in Poole, Dorset.
Make the South West Coast Path your starting point for a great walk. Here are five lovely places to visit which are less than three miles away and offer a great chance to stretch your legs, admire stunning scenery and enjoy refreshments at the end!
Let's start with an easy one you can measure in feet, rather than miles – Mother Ivey's Bay. This beautiful sandy beach, also known to locals as Polventon, is the stretch of golden sand you can see from the Park. There are no facilities here, or public parking, which makes it quieter, but you can always nip back "home" for lunch or a cup of tea. Dogs are allowed all year round. The impressive building at the end of the beach is the RNLI's state-of-the-art Padstow Lifeboat Station which is open to visitors on weekdays.
Another lovely walk along the South West Coast path brings you to Harlyn Beach. It is hugely popular with visitors because there's plenty of car parking space, but the sand never seems crowded. Excellent facilities – food and drink on the beach or at the Harlyn Inn, lifeguards, a surf school, toilets and it's dog friendly. Popular with families and surfers.
On the other side of the headland from Mother Ivey's Bay Holiday Park is Constantine Bay, one of the best beaches in Cornwall for surfers. There is stiff competition for parking spaces at the beach itself (although summertime parking close by) so walking less than two miles to get there is a great stress-free option. A wide sandy beach and dogs allowed all year. There's a very well-stocked shop and surf stores in the village and a café on the beach. On a good day, you'll catch an ice cream van!
Next stop, less than 1½ miles from Mother Ivey's Bay Holiday Park is Trevose Head. This is in an Area of Outstanding Natural Beauty and a Nature Reserve. The National Trust has launched a campaign to preserve the flora and fauna and you might spot shore dock, wild asparagus and golden samphire or see razorbills, guillemots and grey seals. The Trevose Lighthouse was built here in 1847 and automated in 1995. The area is rich in natural beauty, but short on places to eat and drink so take a flask and a picnic or return via the scenic route and eat at the friendly Trevose Golf Club.
Finally, head inland from the Park to the busy village of St Merryn, about two miles away. It has a thriving community spirit with an annual funfair, steam rally and carnival. There's a church, shops, lovely places to eat and two pubs – The Farmers Arms and The Cornish Arms, which is owned by Rick Stein.