Ivey's Blog
Our favourite hidden beaches to explore in Cornwall this summer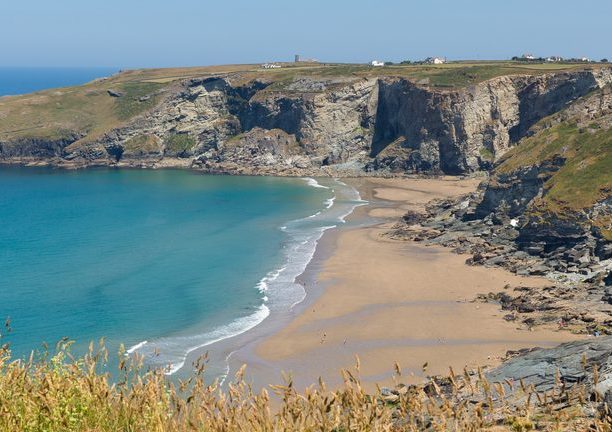 At Mother Ivey's Bay Holiday Park you don't have to venture far for a good beach – there's a lovely stretch of sand just a short walk away. It's quiet because it isn't overrun with shops, cafes and bars. But who needs that when go can go back "home" for lunch?
We are blessed on the north coast of Cornwall with lots of lovely family beaches with great facilities, including surf schools at Fistral and the Newquay beaches, Polzeath and Harlyn. But if you want peace and quiet, here are our five favourite hidden beaches to explore this summer. But remember that the reason they may be quiet is lack of facilities, a long climb or car parking issues!
Booby's Bay (2 miles)
Constantine Bay is popular with surfers with its wide stretch of sand and great waves with car parking, toilets and a nearby shop. But if you take a ten-minute walk north along the South West Coast Path you will be rewarded by the quieter Booby's Bay. There's still sand and plenty of surf but access on to the beach is by climbing down rocks, so take care. Booby's is an easy 10 -15 minute stroll from Mother Ivey's Reception.
Treyarnon (3 miles)
Locals like to keep the secret of Treyarnon to themselves. In many ways, it's the perfect beach – a north-west facing sandy cove which is easily accessible from the car park across low cliffs and sand dunes. The water quality was graded as "excellent" in the Marine Conservation Society's 2016 Good Beach Guide. Facilities include toilets and a small shop.
Tregirls Beach (4 miles)
There's an air of romance about Harbour Cove near Padstow, known locally as Tregirls Beach. Winston Graham named a gypsy girl in his Poldark stories Emma Tregirls and the unspoilt nature of the area made it perfect as a location for the new TV series of Poldark. At low tide the sheltered beach stretches for over half a mile and looks out over the mouth of the Camel Estuary. But looks can be deceptive and the water hides the infamous Doom Bar where over 600 ships have come to grief since the 1800s. Tregirls is also dog friendly all year round.
Trebarwith Strand (20 miles)
Trebarwith Strand is at the bottom of a valley and offers two miles of safe sand for families when the tide is out with rock pools and caves to explore and good surf. There are rocks on entry to the beach and it is surrounded by high cliffs, sheltering it from the Atlantic. There are lovely walks from here along the South West Coast Path and a pub on the cliffs overlooking the beach and out to the iconic Gull Rock. Car parking available nearby and the beach is dog friendly all year round.
Polly Joke (20 miles)
The 15-minute walk from a National Trust car park at Treago Mill near Crantock means this deep, sandy beach, is peaceful, despite its proximity to Newquay. Porth Joke, or Polly Joke as the locals call it, has lots of sand with caves and rock pools to explore. Sandwiched between Holywell and Crantock beaches, access is along a picturesque coast path.