Ivey's Blog
How to avoid these top camping mistakes – from tent size to footwear
22 February 2017
:
Postcards from the Park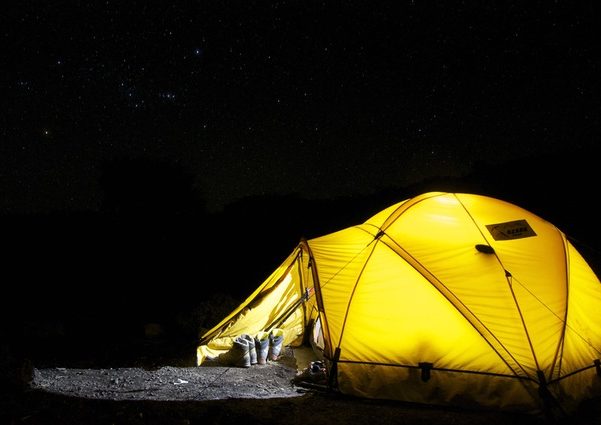 Camping in Cornwall should be a time to relive childhood memories, spend time with loved ones, experience nature and sleep under the stars.
However, simple mistakes can ruin a holiday under canvas, so make sure you avoid our top 8 camping mistakes:
Arriving late in the evening
We've all been there, you left later than planned, didn't expect the journey to be quite so long, or had to make one too many stops for the kids. It's dark by the time you begin to pitch your tent and you're trying not to wake the neighbours. Try to plan well ahead and aim to arrive with plenty of daylight – there's nothing worse than getting to know your surroundings in the dark.
Not trying your new equipment at home
You've invested in a new tent, bought blow up beds and even purchased a fancy new camping stove. If you haven't had a test run, you may not realise that those lovely comfy beds can only be inflated using mains power; or the stove doesn't come with a gas canister. Not ideal when you really want a cuppa while putting the tent up.
Buying the wrong size tent
Never trust a manufacturers advice on sizing. For a three-man tent, think one man with kit and space to move, or two who don't mind invading each other's space at a push. Unless you enjoy feeling cocooned, with little room for your kit, always go two or three capacity ratings higher than the number of people who need to be accommodated. It's also recommended to check the campsite's guidelines on tent size, to ensure it fits on your allocated pitch and complies with their safety regulations.
Not planning for rain
Sometimes there's nothing better than drifting off to sleep to the sound of rain hitting the tent roof. However, the key to having fun in the rain is to prepare. Ensure you've packed your wet weather gear, checked your tent is still waterproof and packed a few things to entertain the family when being outdoors isn't an option.
Insufficient lighting
Unless you're ready for bed when it gets dark, it's important to bring enough lighting to allow reading, the washing up, or sitting outside. Head torches are great as you can keep your hands free and solar powered lanterns produce enough light for inside or outside the tent – just make sure they all work and you take spare batteries.
Not bringing enough warm layers
No matter what time of the year it is, it still gets chilly in the evenings. Make sure to pack a woolly hat, warm coat and jumper – even in the height of the summer. There's nothing worse than sitting round the campfire in your shorts and struggling to warm up. Never take risks by placing a camping stove or BBQ in your tent as a source of heat.
Not bringing the right footwear
We love spending the summer in flip-flops, but they're really not suitable for long coastal walks and the unpredictable British weather. Make sure to pack a pair of comfy trainers or walking boots for walking in and even a pair of wellies for when the weather turns soggy.
Planning to cook Michelin starred meals
Before you head off, plan your daily meals. Just whatever you do, don't make them too complicated! Stick to one pan meals if you can (you won't have the luxury of a gas range) and remember that even the most up to date cool boxes can't keep food fresh for days and days.
Above all, have fun! Camping really is a great experience and a great way to discover new places and spend time with friends and family.