Ivey's Blog
Spectacular Finale to Hugely Successful Year
05 February 2016
:
Park Awards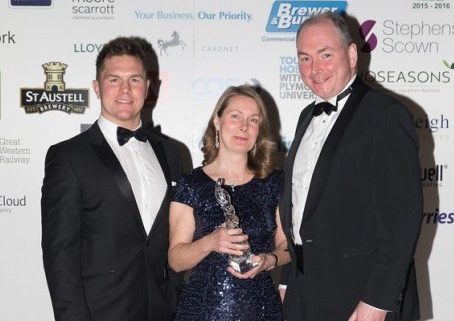 Padstow's award winning & socially responsible holiday park has walked away with Gold at this year's South West Tourism Excellence Awards.
Mother Ivey's Bay Holiday Park, which offers luxury holiday caravans to hire or purchase, and touring & tenting accommodation, was named Holiday Park & Holiday Village of the Year 2015/16 at the spectacular ceremony held at Exeter Cathedral.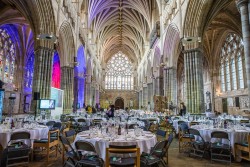 This year's awards were announced last night (4 February 2016) alongside performances of the Tongas 'Sip Tau' Haka and by Exeter Street Band. 95 different awards were announced following a rigorous judging process in which a record 490 entries were considered.
This year's awards event was hosted by ITV news presenters Kylie Pentelow and Ian Axton, with an inspiring opening address by travel journalist and Chair of Family Holiday Association Alison Rice.
Alison was also this year's Chair of Judges and commented: "These high-calibre awards reflect the quality and breadth of the treasures that visitors to the south west can enjoy."
Riding the Crest of a Wave of Success
The gold award comes as the team at Mother Ivey's Bay Holiday Park ride the crest of success as 'Winner of Winners' at the Cornwall Tourism Awards and double award winner at the Living Wage Champion Awards 2015 after becoming the UK's first Living Wage accredited holiday park early last year.
Park Director, Patrick Langmaid, said "We're absolutely delighted to be named the best holiday park in the South West. This recognition is testament to the consistent hard work of the team and our commitment to socially responsible business practices. It rounds off a truly fantastic year for the Park!"
This year's awards broke the previous record for entries with 490 submissions being considered, each going through a rigorous 3-stage judging process of marking, visits and panel meetings.
Robin Barker of Services for Tourism, who manages the awards programme, said: "This year's awards have set new standards in both numbers and quality standards. It never ceases to amaze me how our top businesses continue to reinvent themselves to stay at the top in one of the world's most fast-moving and competitive industries."