Ivey's Blog
Living Wage Business Networking Event
04 November 2015
:
Postcards from the Park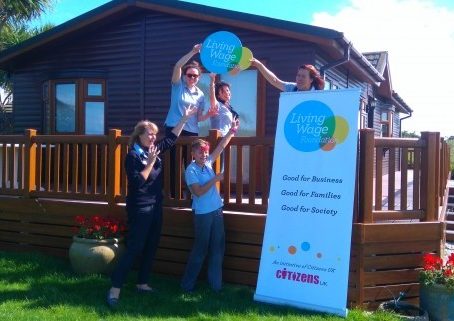 It's National Living Wage Week & to celebrate, we and our good friends at Kerdene are hosting a business networking event with a difference – and it's not just for the Tourism Industry!
At Mother Ivey's Bay we seek 'best practice' in all areas of our business as we search for ways to continually enhance our guest experience. On one issue at least we are actually setting the pace: Living Wages.
The Benefits
When last we checked, Mother Ivey's Bay was one of just eight accredited Living Wage employers across the whole of Cornwall. We are a small group of businesspeople who recognise the commercial benefits to be gained from paying the UK Living Wage (currently £8.25 in Cornwall) – benefits around HR, marketing and brand enrichment. The Living Wage is often seen in business as an additional cost, while overlooking 'cost offsets' such as easier staff recruitment and better staff retention, plus better productivity and better customer care. At Mother Ivey's we buy the best caravans possible, not simply the cheapest, and likewise, we use Living wage accreditation to help recruit the best staff possible.
The Event
On Friday 6th November 2015, we and Kerdene will host a Living Wage buffet at the Farmers Arms in St Merryn, near Padstow. We have chosen the Farmers Arms as the venue because landlords Dan and Lisa hope very shortly to become the first accredited Living Wage pub in the whole of Cornwall.
How to attend
It only costs £9 to attend the buffet and all we need to know please is whether you are able to attend, and if so how many of your organisation will be coming along? Other guests will include Scott Mann MP (subject to demands of the House, which is sitting on 6th), Malcolm Bell of Visit Cornwall, Sam Lindo of Camel Valley Wine fame, and the Venerable Bill Stuart-White (representing the Bishop and Diocese of Truro) – it offers an amazing networking opportunity!
We hope to see as many of Cornwall's business community as possible.
To confirm your places, email simon@motheriveysbay.com or call 01841 520990 and speak to Simon.