Ivey's Blog
Bees, Plants & ORKS – Come Again?
02 July 2016
:
Wildlife and Nature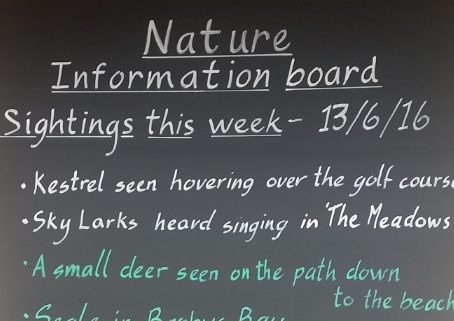 The past two months have been planting time!
We have started planting up our 'Martha's Orchard' site and replanted our front entrance beds. We are also on the brink of keep bees on the site with the help a local bee keeper. Here's our Gardener Alison with a full update…
Martha's Orchard
The garden at Martha's Orchard is really starting to come along.  We've invested heavily in a sympathetic & diverse selection of plants.  The ground is being prepared and we have already planted up the Cornish dry stone walls with Lavender, Rosemary, Thyme, Armeria, Phlox, Helianthemum, Campanula and some Verbena for a bit of instant colour. Sometimes I wish I had a time machine so we could fast forward and have a little look at what our planting will look like in the coming months, but I guess I'll just have to wait.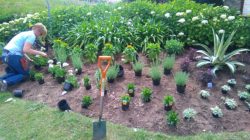 In the early summer sunshine, it was time to take the wall flowers out and refresh our main beds that flank the entrance to the park.  We love the red geraniums that have been there for many years but it was time to think about more sustainable planting.  We took the opportunity to put in some structural plants that will be there for longer than a season and have supplemented these with other plants that, when finished, will be relocated to other parts of the park.  Some, I must admit, are a bit of an experiment as to whether the rabbits eat them or not.  The Gardening Club members are keeping a keen eye on them too.
Bees
Last year I trained to be a bee keeper so this year we are going to trial having bees on the site.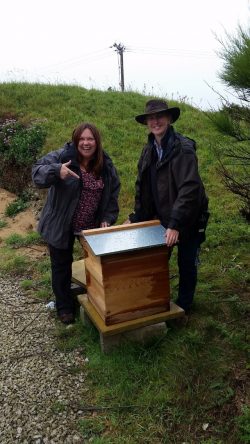 Along with our friendly, local & experienced beekeeper Keith, we have identified a few places on the site where the bees (and our guests) will be safe. Sarah from the 'David Bellamy Conservation Awards' scheme was really excited by the idea and I said we would invite her back when it's all up and running to take another look and learn more about them.
We now have a lovely new wildlife information board to share the park's wildlife comings and goings – check it out at the top of this post! We have a book in reception for guests to write their sightings.  We then pop it on the board and let everyone else know.  So far we have had had a deer on the beach ramp, sparrow hawks, skylark's, seals and dolphins reported.
Wes and I will be doing some training shortly so that we can submit our sightings to the 'ORKS' service.  'ORKS' stands for 'Online Reporting for Kernow and the Isles of Scilly' and feeds information to 'The Environmental Records Centre for Cornwall and the Isles of Scilly'.  That service has a catchy accronym too – ERCCIS.  ERCCIS collates, manages and disseminates biological and geological information for use in research, conservation and sustainable development and works with local and national biological recorders and conservation organisations for the better environmental conservation of the county.
We are now working with 'ORKS' to develop our own Mother Ivey's Bay reporting page so that guests will be able to submit their own sittings for this very special part of the world.